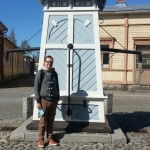 My stay in Porin Lyseon lukio from 27th of April till 3rd of May 2014 was an incredible experience that I would cherish my whole life.
First I have to thank to all who've been involved in my job shadowing, but that would not be possible, if I hadn't met my dear friend, an eTwinning ambassador from Pori, Maria Älli on a conference in Nottingham and Athens. She motivated me to come and stay in her school.
What I've learned is a lot. The best experience was in a school, where I've noticed, that everything runs very smoothly and that students are very motivated. A lot of ICT in use all of the time, but lessons are still combination of everything, mainly focusing on students. And 75 min. for a lesson is a lot if I compare it to Slovenian 45 min., but I have to admit, that I like yours better. Teacher has more time and can include various teaching styles in one lesson. Giving and observing lessons in German and English proofed that to me.
The best thing during my stay was this warm hospitality from all the people I've met. I've learned how the Finish school system works and I can imagine now, that it was and still is one of the best on our planet.
Pori as a city is very beautiful, very plain and has a long history. I had a chance to see Rauma also, an interesting city northern from Pori. The football game was also a new experience to me and visiting the Yyteri's beach was a highlight.
In a book Lively Pori there's an intro to a reader that I would like to share with you to finish my article:
When you visit Pori for the first time, come in the summer,
When you visit Pori the second time, come in the fall.
The next time you visit Pori, you might want to stay.
Thank you Jarkko, Ilona, Henriikka, Heikki and Leena for showing me around and helping me during my IST and making my time unforgettable 🙂